Japan 'quakes: forecast of heavy rain threatens to hamper rescue efforts
Comments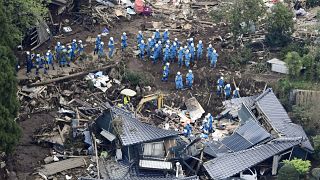 The threat of a heavy storm and ongoing aftershocks are adding an extra sense of urgency to rescue efforts after two earthquakes struck southwestern Japan in just over 24 hours.
Dozens have died and some 1,500 people were injured when Kumamoto Prefecture was struck late on Thursday evening (April 14) and again early on Saturday morning (April 16).
At least nine people are known to have been killed as a result of Thursday's 'quake, while the death toll from Saturday currently stands at 32.
The first magnitude-6.4 'quake is now believed to have been a precursor to the second, magnitude-7.3 tremor.
"I was caught off-guard, I think we all were," said local resident Hikaru Morimoto. "After Thursday, I thought the worst was over, so I was really shocked, really."
More than 20 people are feared trapped.
Authorities have deployed 20,000 troops to the region to assist with recovery operations. Landslides have damaged roads, cutting off remote villages and hampering rescue efforts. With more rain forecast, fears are mounting of further, potentially catastrophic, mudslides.