Apartment building collapse in Tenerife
Comments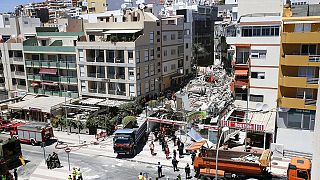 A residential building collapsed in the Canary Island of Tenerife on Thursday (April 14) injuring at least three people and prompting evacuation of nearby premises, local emergency services said.
Tenerife local authorities said rescue teams were still searching the site for more people possibly trapped under the rubble.
The building, in the popular Canary Island tourist town of Los Cristianos, collapsed at 0930 local (0730 GMT). The cause of the collapse is being investigated.