Shock election defeat for South Korea ruling party
Comments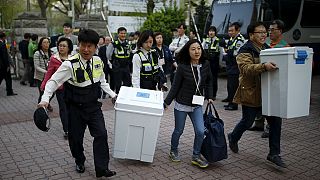 For the first time in 16 years, South Korea's ruling conservative party has lost control of parliament.
The centre-right Saenuri Party of President Park Geun-hye had been widely expected to win Wednesday's elections.
But the opposition Minjoo party took more seats in the assembly, amid voter anger over the sluggish economy.
The victors weren't mincing their words.
"It is fair that the government has been punished by a vote when they can't resolve the issue of people's livelihoods. This is the power of voting, which is stronger than a bullet," said Kim Chong-in, the Minjoo Party's Chairman of the Emergency Committee.
For the ruling centre-right, the shock results brought embarrassment. devastation and an offer by the man in charge to fall on his sword.
"I'll step down from the party leadership, taking all the responsibility for a crushing defeat in the election," said Kim Moo-sung, the Chairman of the ruling Saenuri Party.
"I would like to thank our party members and the people who supported us."
The Saenuri Party took 122 of the 300 seats in the single-chamber National Assembly, while the main opposition Minjoo Party won 123 seats and the People's Party grabbed 38, local media said.
The results are also a blow to President Park Geun-hye.
They mean her administration will face more deadlock in the National Assembly as she tries to push through her legislative agenda.
The defeat is also likely to dent her conservatives' prospects of fielding the winning candidate in next year's vote to succeed her for a single five year term.
The country has a strong presidential system with a national leader who is constitutionally limited to a single term but has control over domestic and foreign policy.
South Korea's economy grew 2.6 percent last year and youth unemployment reached 12.5 percent in February, the highest since the government started keeping records in 1999.