Syrian elections take place to backdrop of fighting in Aleppo and peace talks in Geneva
Comments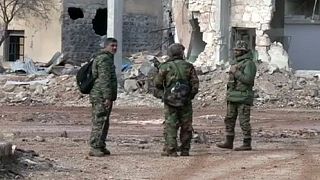 The Syrian elections – "theatre through which the regime is trying to give itself a little legitimacy". That's one view from the main oppostion body – the High Negotiations Council.
Russia, a staunch ally of President Bashar al-Assad said the ballot aims to avoid a legal vacuum before early elections are held under a new constitution.
But the poll is overshadowed on two counts. There is a new round of indirect talks by the United Nations aimed at ending the conflict due to start.
And then there is a strong threat to the fragile six-week truce due to fighting in Aleppo which comes after the government's announcement of a major offensive south of the city.
It is being supported by Russian air strikes, Iranian Revolutionary Guards and fighters from Lebanon's Hezbollah movement.
The Syrian Observatory for Human Rights claims government warplanes also carried out "unprecedented" air strikes on rebel -held eastern parts of Aleppo on Tuesday. The city holds the key to peace or war in Syria it said.
And then there is diplomacy. United Nations special envoy Staffan de Mistura has warned that there is an urgent need for the government and oppostion to take steps towards a political transition.
He was in Tehran on Tuesday for meetings ahead of the third round of talks getting underway in Geneva.
"The political process leading to a political transition is now crucially urgent," he told reporters.
The High Negotiations Committee was due to meet with Staffan de Mistura today while the government said it would be ready to participate from Friday.
#SyriaTalks – UN Envoy Staffan de Mistura meets High Negotiations Committee delegation today; will brief press 7pm. pic.twitter.com/EKvFvjtpyS

— UN Geneva (@UNGeneva) April 13, 2016
But the diplomacy is struggling to make progress with no sign of compromise over the main issue dividing the sides – the future of President Assad. The government had ruled out any discussion of the presidency ahead of the first round of talks last month.
One Western diplomat is quoted as saying, "there is more riding on this round" than previous rounds since de Mistura is looking to address the thorny issue of "what does transition away from Assad actually look like."