IMF warns 'Brexit' could do 'severe damage' to global economy
Comments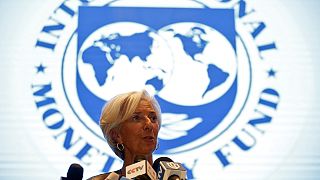 The IMF has warned that a "Brexit" would prompt "major challenges" and an extended period of economic uncertainty, which would damage confidence and investment, increase market volatility and hurt trade and growth.
Maurice Obstfeld, the IMF's chief economist added, that if the UK votes to leave the exit negotiations will take time and exacerbate problems in an already sluggish global economy.
World Economic Outlook 2016 by Maurice Obstfeld pic.twitter.com/3JaC4UoxA6

— Lena Argiri (@lenaargiri) April 12, 2016
The IMF is right – leaving the EU would pose major risks for the UK economy. We are stronger, safer and better off in the European Union.

— David Cameron (@David_Cameron) April 12, 2016
"A Brexit vote would lead to a two year process of renegotiation in which it seems unlikely, we can't presuppose what would happen, that Britain's status with respect to access to EU would not change. This would have a big affect on the UK, its European partners, in fact countries more globally that are integrated into the current set of arrangements"
Today we see a stark warning from IMFNews</a> of taste of things to come if UK votes to leave EU. UK economy already impacted by threat of exit</p>&mdash; George Osborne (George_Osborne) April 12, 2016
The IMF has also cut the UK growth forecast for 2016 down from 2.2 percent in January to 1.9 percent.
As for the global GDP prospects are also down on January estimates from 3.4 percent to 3.2 percent.
The fragility of the global economy is not something that brings Maurice Obstfeld much joy: "Global growth continues but at an increasingly disappointing pace, that leaves the world economy more exposed to negative risks. Growth has been too slow for too long."
Those in the UK campaigning to leave the EU say that the IMF is consistently wrong and it is wrong now.