French protesters take to the streets against planned labour reforms
Comments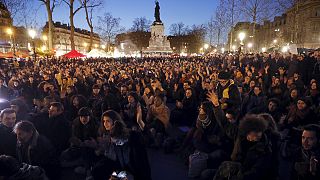 Protesters staged overnight sit-ins in Place de la Republique in Paris and other cities across France on Sunday.
The Nuit Debout, or Up All Night movement is similar in style to the Occupy Wall street protests in the United States and Indignados in Spain. It sprung up about a week ago in the capital and has spread to other French cities as well as Brussels.
Citizens debate topics such as the State of Emergency in France, tax evasion and planned changes to labour laws. They say they feel angry and let down by the socialist government.
Earlier on Sunday, at least 120,000 people marched in cities across France against a reform bill they say will worsen working conditions and increase unemployment.
The government says the reforms will encourage businesses to hire more workers.
There were brief clashes in central Paris between police and a small number of protesters who the Interior Minister described as "ultra radical elements" who had nothing to do with the majority.
Parliament is set to vote on the labour reforms in late April or early May.