French labour laws: how do working conditions compare?
Comments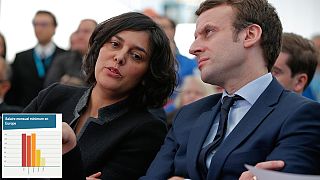 There are grumblings in France over fresh plans to reform rigid labour laws around the country's precious 35-hour working week.
The hostility from the French has included remarks such as: 'we must work 60 hours a week for a pittance', 'they will easily be able to sack us' and 'labour laws that only protects the bosses'.
France's stubbornly high unemployment rate – which stands at 10.2 percent, above average in the EU's 28-member bloc – is a key reason for the proposed reforms.
But how bad do the French really have it? We've focused on five other European countries to find out.
France's cherished 35-hour week under threat?
France's new labour minister, Myriam El Khomri, announced reform plans last November.
If the proposals are approved it will be possible for the French to work 48 hours a week, 60 with an 'exceptional authorisation'.
The legal length of the French working week will remain at 35 hours, however.
The potential change involves averaging out working time over three months. So an employee could do 48 hours one week but would be compensated over the next seven-day period by doing, say, just 22 hours.
How long is the working week elsewhere in the EU?
In the United Kingdom, the maximum working time is 48 hours per week but this rule can be easily circumvented by agreement of the employee.
In fact, France is the only country in the EU to practice 35 hours.
As for Germany, it does not even have weekly working time limits.
The champions of excess are the Poles, who can work up to 13 hours a day if there is agreement between employer and employee.
The end of France's daily 11 hours of rest?
At the moment French employers have to allow workers 11 consecutive hours of rest between each working day.
There is also a requirement to have 35 hours of consecutive rest over a working week, often the weekend.
The new proposals will open up the possibility of splitting up the 11 hours of rest between two days of work. But this measure will only be available to workers paid by the day and subject to the agreement of the employer.
British, German and Polish workers are entitled to a similar rest time to their French counterparts.
Spain imposes a day-and-a-half of consecutive rest per week, while the Swedes are asked to stay home between midnight and 5am.
Overtime pay cut?
Most companies in France currently pay overtime as the fixed hourly rate plus 25 percent for the first eight hours, and 50 percent for any that follow.
These are the default rates written into law.
However, it is possible if there is an agreement within a particular industry, between firms and unions, to fix the overtime rate at a lower figure (say 20 percent) as long as it doesn't fall below 10 percent.
The new proposals will not touch the default overtime rates, nor the minimum 10 percent level mentioned above.
It will however allow companies to set their own overtime rates, circumventing any industry-level agreements.
This is likely to leave workers worse off. But even 10 percent is a relative luxury compared to other European countries.
Easier to sack workers in France?
The new reforms in France, if passed, would allow companies to dismiss workers on the basis of economics – for example if the company sees orders decrease for at least four quarters.
But, again, France is far from being the worst off when it comes to elsewhere in Europe.
In the UK a firm can sack a worker without any condition, if that employee has been at the company for less than two years.
Spain is much like what is being proposed in France, except the period of poor performance is less, at three quarters.
German firms' right to sack workers for economic reasons are vague, much like France's at the moment.
Less compensation for unfair dismissal
The proposed reform would introduce a cap on compensation in cases of unfair dismissal.
The French government thinks that certain companies decide not to hire more workers because of fear of having to pay out huge sums in cases of litigation.
If the law is passed, it would see compensation capped to 15 months of pay.
As the chart shows, the French proposal would leave its citizens worse off than some of its European neighbours.
Minimum salaries
French and German workers enjoy higher minimum wages than their neighbours.