Electorate split ahead of Peru presidential vote
Comments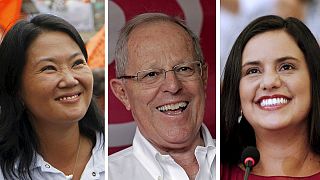 Peru is set for presidential elections on Sunday. Polls show front-runner Keiko Fujimori is short of the fifty percent of votes needed for an outright win. Keiko is the 40-year-old daughter of former president Alberto Fujimori, who is serving a jail sentence for human rights abuses and for corruption of his administration.
Support has surged in recent weeks for leftist Veronjka Mendoza who has swept up scores of undecided voters with promises of radically transforming the country's economy.
Polls put Mendoza just one point behind her rival 77-year-old Pedro Pablo Kuczynski.
Kuczynsk had struggled to gain support from poorer rural voters in the last election. He has ramped up efforts for this vote, portraying Mendoza as a threat to economic growth.
A Fujimori-Kuczynski run-off in June would likely ensure Peru's free market model prevails no matter who emerges as the winner.