Country music legend Merle Haggard dies aged 79
Comments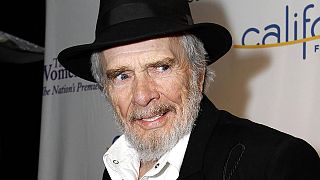 American Country music legend Merle Haggard has died at the age of 79 from pneumonia. Haggard was considered one of the most influential figures in the genre.
Haggard's fame skyrocketed in 1970 with "Okie From Muskogee", an anti hippie song ("We don't smoke marijuana in Muskogee, we don't take our trips on LSD") that came to be embraced by conservatives.
But the song didn't necessarily reflect his views and he went on to write others which dealt with social issues such as loneliness and poverty, becoming regarded as the poetic voice of the American working man.
.merlehaggard</a> crafted songs that were for every day people. He was relatable and real and will continue to inspire! <a href="https://t.co/kHdFp1iTJ1">pic.twitter.com/kHdFp1iTJ1</a></p>&mdash; Lady Antebellum (ladyantebellum) April 7, 2016
Born in California Haggard he defied his own poverty-stricken and often rough background – even spending time in jail for burglary . He wrote songs, sang and played fiddle and guitar, and with numerous hits under his belt he was adopted into the Country Music Hall of Fame.
Rolling Stone magazine has described him as "the backbone of one of the greatest repertoires an all of American music, plain-spoken songs populated by the kinds of working people Haggard grew up with: farmers, hobos, convicts, widows, musicians and drunks".
On hearing of his death one admirer said "Haggard was the bottom line in country music – the gold standard".
Clint Black, on the death of country music legend Merle Haggard: "We've lost a giant." https://t.co/KFhpPYk8jKpic.twitter.com/80BSuHeuDB

—

ABC

News (@ABC) April 7, 2016