Armenia urges international community to recognise 'autonomy' of Nagorno-Karabakh
Comments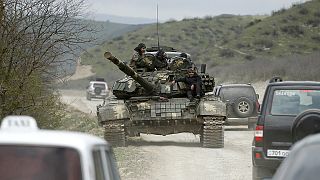 Armenia's President Serzh Sargsyan has called on the international community to recognise the breakaway region of Nagorno-Karabakh's right to self-rule.
It is internationally acknowledged as being part of Azerbaijan.
His first official statement since Tuesday's (April 5) ceasefire was announced, was made in Berlin, where Sargsyan was invited for discussions with German Chancellor Angela Merkel.
Sargsyan once more accused Azerbaijan of stoking the conflict in the region.
"There have been violations which have ignored the 20-year efforts of the international community," he told the press. "With its wide military offensive, Azerbaijan has again transformed the region into a hotspot, threatening European security."
Each side blames the other for the recent outbreak of violence, which has killed dozens.
Authorities from Azerbaijan and pro-Armenian fighters in the region had already acknowledged the truce before Sargsyan's speech in Berlin. However, the morning after it was declared, the Azeri Defence Ministry claimed the Armenian-backed forces had already violated the ceasefire more than a hundred times.
Germany, as chair of the Organisation for Security and Co-operation in Europe, has confirmed it will send a fact-finding mission to the Nagorno-Karabakh region.
The group has called on both sides to respect the halt in hostilities.