Iceland's PM refuses to resign over Panama Papers scandal
Comments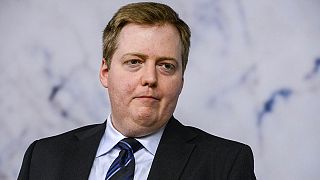 Under mounting pressure from the opposition, Iceland's Prime Minister Sigmundur Gunnlaugsson is adamant he has no plans to resign over the Panama Papers leaks.
He and his wife, Anna Sigurlaug Palsdotti, are alleged to have hidden millions of dollars in investments behind secretive offshore company Wintris, which they bought in 2007 and operates from the British Virgin Islands.
Gunnlaugsson entered parliament in 2009 without declaring an interest in the company.
Eight months after he entered parliament, his wife bought his share of the company for one dollar. It was allegedly then used to invest millions in inherited money.
"Now I'm starting to feel a bit strange about these questions because it's like you're accusing me of something taciturn," he said in an interview recorded in March, but aired on Sunday (April 3).
According to court records, Wintris had heavily invested in three major Icelandic banks which collapsed during the financial crisis.
Wintris was listed as a creditor to the banks and therefore could have stood to gain from their collapse. Gunnlaugsson's opponents allege his reluctance to fully repay the deposits of foreign investors following the bankruptcies amounts to a conflict of interest.
If he had fully repaid, it could have negatively affected both the Icelandic banks and the value of the company's bonds.
The opposition have called for a confidence vote in parliament. Despite their protests, all signs suggest the prime minister would survive the ballot.