Front line view of Mosul offensive as Iraq appeals for help against ISIL
Comments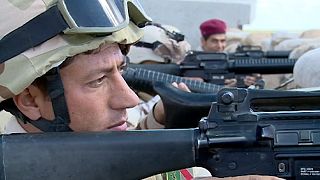 The Iraqi government has appealed for more international help to liberate the country's second-largest city Mosul from the clutches of the self-styled Islamic State organisation.
Last week Iraqi forces announced a much-awaited offensive, assisted by Kurdish Peshmerga forces and US advisors.
The defence minister has denied reports that US-led foreign troops are taking part in the operation.
US media had reported that American ground troops had been dispatched to assist Iraqi forces.
Euronews saw at first hand the Iraqi visit of the minister, Khaled al-Obeidi, to the army front line around Makhmour some 60 kilometres to the south of Mosul.
He told our correspondent US air strikes were very important, providing cover for the ground operation. But he added, more help was required.
"This battle needs more serious support not only from Europe but from all the world. The danger from Daesh threatens the whole world – what happened in Brussels and Paris recently is a very clear sign of that – and this will happen again in other countries, so my message to the Europeans is that the risk from Daesh is not only military, it's ideological as well," al-Obeidi said.
Retaking Mosul will be key to defeating the extremists; the offensive is expected to last several months. Progress is said to have been slow; a number of villages have been taken by the army but others remain under ISIL control.
In addition, tensions have been reported between Peshmerga and Iraqi forces, some of whom fled the area when ISIL moved into the area in June 2014.
Euronews correspondent Mohammed Shaikhibrahim reported from Makhmour:
"Today we succeeded in reaching one of the Iraqi army's front lines to witness part of their tough war against Daesh. Military sources told us the operation will develop in the coming days especially from the technological and tactical side, and the number of soldiers (is expected to increase) as well."
The men and women who escaped ISILhttps://t.co/CyC8vopfmmpic.twitter.com/UmX8dHfhEa

— euronews (@euronews) 30 March 2016