Violent clashes between police and protesters in Peru over unopened university
Comments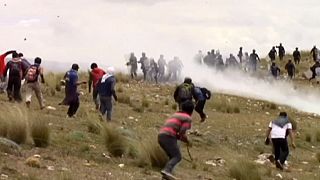 Authorities in Peru have opened an investigation into violent clashes that broke out between police and protesters on the third day of demonstrations over a local university.
The clashes in the country's southwest left some 20 people, mostly police officers, injured.
Images from the scene showed one officer being struck on his helmet with a large rock.
Other footage showed an injured protester being carried away by other demonstrators.
Local people are angry that the Autonomous University of Tayacaja, which was built five years ago, has still not been opened.
Four injured police officers were reportedly held by the protesters for some 20 hours before being released.
Police were pelted with rocks, while officers fired back with tear gas.
The clashes broke out when police attempted to clear protesters off a road.
Peru's Interior Minister, Jose Perez Guadalupe, said: "I have always said, and I reiterate: protesting is one thing, violence is another.
"And the police know that we will always defend them, even more so when they're hurt or victimised while carrying out their duty."
One protester said: "Five years have gone by and during that time they have cheated us. And that is why the people, today have taken these actions of force."
Local officials have been attempting to have talks with the Ministry of Education about the failure to open the university.