Tension erupts as Greece prepares migrant returns to Turkey
Comments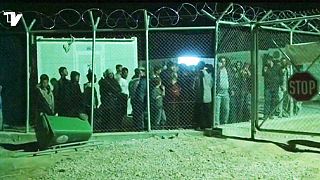 After a night of violence at a holding centre on the Greek island of Chios, hundreds of migrants and refugees have forced their way out, reportedly tearing down part of a razor wire fence.
Tensions are boiling over as Greece prepares to start returning migrants to Turkey under the EU's deal with Ankara.
Reception centres on the Aegean islands have become detention centres for those arriving after March 20, who face being sent back if their asylum applications are not accepted.
A daily average of 1,885 men, women and children have entered Europe by sea in 2016 https://t.co/MaX0YT899kpic.twitter.com/wFomR3i8QJ

— IOM (@IOM_news) 31 mars 2016
Rioting and clashes between migrants have left several people injured at a number of Greek sites.
About 1,500 migrants and refugees who have arrived on Chios since March 20 were being held at the facility as of Friday morning.
Video clips on Greek websites showed dozens of migrants and refugees, many of them women and children, carrying their belongings and walking along the tree-lined road to the port.
A police spokesman for the northern Aegean region to which Chios belongs said about 300 people had left the centre. Police were monitoring the situation, he said.
Clashes broke out at the site late on Thursday, during which windows were smashed and 10 people were injured lightly, another police official said.
"They say they don't want to go back to Turkey and that they are afraid for their safety after yesterday's clashes," a police official on Chios said.
"The police tried to persuade them to return but they refused and are now walking to the port of the island," he said.
At the same time, more people fleeing misery and conflict continue to arrive on
Greek shores.
An Italian coastguard vessel working with Frontex and Spanish volunteers escorted a group of around 40 mainly Afghans onto the island of Lesbos early on Friday – the newcomers still, no doubt, hoping to make it to northern Europe.
The odds are stacked against them.
In 5 months of joint operations the @MSF@Greenpeace team on #Lesvos assisted 18,117 men, women & children at sea. pic.twitter.com/Csrtx7iI7I

— MSF Sea (@MSF_Sea) 1 avril 2016