Drought-stricken Filipino farmers clash with police after crop failure
Comments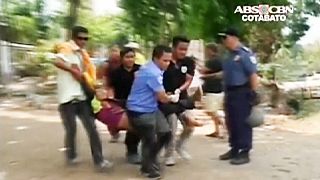 Police have clashed with farmers in the southern Philippines.
The farmers are demanding food aid from the government after 300,000 thousand hectares of farmland was affected by drought causing crops of rice and corn to fail.
One farmer said the police initially tried to disperse them with water canon but they held their ground, so the officers started shooting.
The protest began when thousands of farmers blocked a section of a motorway in North Cotabato province on the southern island of Mindanao.
At least two demonstrators died in the clashes and dozens others have been wounded, including police officers.
The farmers are demanding talks with the governor and the release of 15,000 sacks of rice they say she had promised them.