Mass gang arrests in Russian city of Yekaterinburg
Comments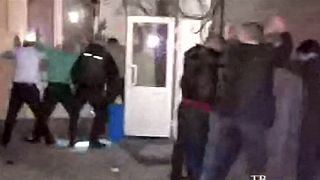 Russia's interior ministry has released a video of a police raid on a restaurant on Wednesday night (March 30) in which 167 suspected gang members were arrested.
It happened in the central city of Yekaterinburg.
The authorities say organised crime gang leaders were meeting to carve up territory in Russia's Urals region.
SWAT teams and detectives from Russia's organised crime division swooped on the location, seizing four pistols, 14 knives, a wooden bat, a rubber truncheon, a pack of suspected hashish and allegedly counterfeit spirits, according to the interior ministry.
Those arrested were taken for identification and fingerprinting.