Athens protesters chant 'open the borders' ahead of migrant returns
Comments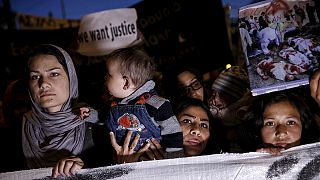 Hundreds of human rights activists, students and migrants have taken to the streets of Athens chanting "open the borders."
We're asking the world, the big countries, to open the borders for us. We're not here for money. We're here for a safe place. We want a peaceful land on the planet
The migrants were some of the thousands left stranded in Greece because of frontier closures across the Balkans.
The show of anger on Wednesday cam just days before Turkey is due to start taking back illegal migrants from Greece under an EU deal – a deal the demonstrators demanded be scrapped.
"We want nothing from the Greek government. They themselves are in trouble, the Greek economy right now," said one migrant from Afghanistan.
"We're asking the world, the big countries, to open the borders for us. We're not here for money. We're here for a safe place. We want a peaceful land on the planet."
#Greece#refugees protest in #Athens against EU-Turkey #migration agreement AP_Images</a>/ <a href="https://twitter.com/PGiannakouris">PGiannakourispic.twitter.com/OrvZBFTCtu

— Petros Giannakouris (@PGiannakouris) March 30, 2016
Migrant and refugee arrivals from Turkey are on the rise again in Greece.
Authorities recorded 766 between Tuesday and Wednesday morning – around four times the number seen in the previous 24 hours.
Under the EU-Turkey deal, migrants and refugees who arrive in Greece from Turkey will be subject to being sent back once they have been registered and their individual asylum claim processed.
Returns are due to begin from 4 April, and for each Syrian returned from the Greek islands to Turkey, one will be sent the other way for direct resettlement in Europe.
Human rights groups and some governments have expressed concerns about the legality of the scheme.
Reporting from the demonstration, euronews' Konstantinos Tsellos said: "The closed borders policy has caused despair for the thousands of migrants and refugees currently stranded here in Greece.
"They're calling for the EU-Turkey deal to not be implemented so that they have a chance to continue their journey to Europe."