Refugee crisis: 'Exponential increase in global solidarity' needed - UN
Comments
By
Euronews
with
UNHCR, OXFAM, INTERNATIONAL ORGANIZATION FOR MIGRATION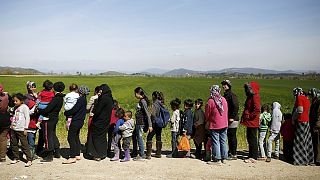 The refugee and displacement crisis "demands an exponential increase in global solidarity," the United Nations Secretary-General said in Geneva.
Ban Ki-moon told representatives from 92 countries, as well as governmental and non-governmental organisations, that more needs to be done to ease their situation.
"When managed properly, accepting refugees is a win for everyone," he said.
"They bring new skills and experience to an ageing work force. Attempts to demonising them are not only offensive, they are factually incorrect. I call on leaders to counter fear-mongering with a reassurance and to fight inaccurate information with the truth."
Ban acknowledged an end to Syria's five-year civil war would be the ideal outcome, but until then urged the world to "step up, with concrete actions and pledges" to help the 4.8 million who have fled and 6.6 million who are internally displaced.
The UN High Commissioner for Refugees Filippo Grandi outlined the UNHCR's plan.
"Our aim is to find admission for at least 10 percent of the Syrian refugee population or 480,000 people over three years. This may seem a large number, but it is not, if compared to the number of refugees the neighbouring countries have been hosting. If Europe were to welcome the same percentage of refugees as Lebanon in comparison to its population it would have to take in 100 million refugees."
Check out "Where We're From" interactive app that lets you track #migrants in every country https://t.co/nBuRl8304Upic.twitter.com/3m0iPJMQDu

— IOM (@IOM_news) March 30, 2016