Russian farmers furious about alleged illegal land grabs
Comments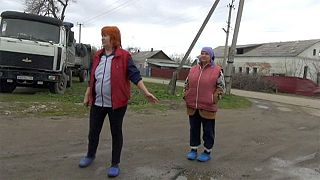 All signs pointed to the European Union's sanctions on Russia being a positive move for the country's small domestic farmers.
But two years on, farmers in Russia's southern Krasnodar region are angry about what they say are illegal land grabs from big agricultural corporations.
The creation of a working group has put a stop to a planned tractor run to the Kremlin in Moscow, but locals are still unhappy.
Land owner Lyubov Gelata told reporters:
"They all lie, no one wants to do anything. Why do they grab our fields? We are the owners and they want to take our land. They have people who decided to work for them – so let them work together. We have nothing to do with it, we have been renting out our lands to other farmers for three years already."
The Krasnodar region is one of the richest in the country in terms of agriculture. Produce farmed there is distributed nationwide.
Farmers say they hope the creation of the working group will signal the start of a resolution to their problems.