Pope Francis: the Lahore attack is "hideous"
Comments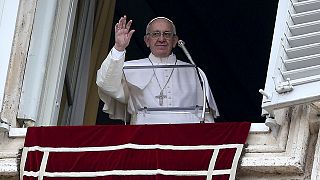 I wish to express my closeness to all those affected by this vile and senseless crime
As leader of the Catholic Church, Pope Francis has condemned the Easter Sunday suicide bombing in a park in Lahore.
At least 70 people died, many of them women and children.
A faction of the Taliban in Pakistan says it was behind the attack and says Christians were the intended target.
Pakistan is a mainly Muslim nation with a Christian population of around two million.
Many live in Lahore, the liberal and affluent capital of the Punjab region.
Vile and senseless
Pope Francis has condemned the bloody suicide bombings in Pakistan. https://t.co/uOVGSxhqajpic.twitter.com/kCLZyqS30W

—

GMA

News (@gmanews) March 28, 2016
Addressing the crowds gathered in St Peter's Square in Rome, Pope Francis demanded Pakistan's government do more to protect religious minorities.
His Holiness described the attack as a "vile and senseless crime" and appealed to "civil authorities and all sectors of that nation to make every effort to restore security and serenity to the population, and in particular to the most vulnerable religious minorities."
What the Pope said in full
"Yesterday, in central Pakistan, Easter was bloodied by a hideous attack that massacred so many innocent people, mostly families of the Christian minority – especially women and children – gathered in a public park to enjoy the joy of the Easter holidays. I wish to express my closeness to all those affected by this vile and senseless crime and invite you to pray to the Lord for the many victims and their loved ones. I appeal to civil authorities and all sectors of that nation to make every effort to restore security and serenity to the population and in particular to the most vulnerable religious minorities."
"I repeat, once again, that violence and murderous hatred only lead to pain and destruction. Respect and fraternity are the only way to achieve peace. May the Passover of the Lord inspire us even more to pray to God to stop the hands of the violent ones who sow terror and death and for love, justice and reconciliation to reign in the world. Let us pray for those who died in this attack and their families and for the Christian and ethnic minorities in that region."
"I wish you all a happy and holy Easter. Please don't forget to pray for me! Have a good lunch. Goodbye!"