El Chapo's alleged money man detained
Comments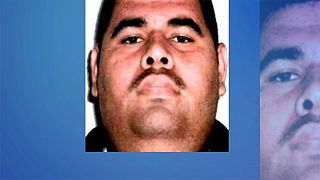 Juan Manuel Alvarez, suspected of laundering money for recaptured drug kingpin Joaquin "El Chapo" Guzman has been detained in southwest Mexico, and faces extradition to the United States.
Alvarez, who was arrested in Oaxaca state, has ties to an international money-laundering network that spans Mexico, Colombia, Panama and the United States, Mexican police said via their official Twitter account.
Guzman, who escaped twice from Mexican maximum-security prisons, was recaptured in Mexico in January and is seeking to speed up his extradition to the United States in the hope he will be treated better in prison there.
As head of the Sinaloa cartel, Guzman is accused of leading a bloody war against rival gangs and smuggling vast quantities of illegal drugs into the United States.
Separately, US authorities have discovered an underground cross-border tunnel linking Mexico to California.
Drug tunnel found under California home stretches all the way to Mexico https://t.co/gGsSUehYG4pic.twitter.com/d9SdACUFho

— Daily Mirror (@DailyMirror) 26 mars 2016
It comes amid an investigation that led to four arrests and the seizure of a stash of marijuana.