US confirms two Americans killed in Belgium attacks, Kerry visits Brussels
Comments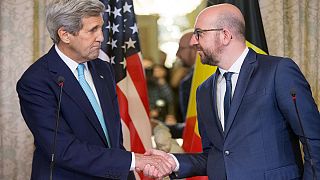 Two Americans were killed in Tuesday's bombings in Brussels, a senior US official said on Friday.
We will not be intimidated. We will not be deterred
The official did not offer specifics on where the Americans died, saying only that two had been confirmed killed.
Meanwhile, US Secretary of State John Kerry visited the Belgian capital to offer American support and condolences.
The attacks at Brussels airport and a metro station, which killed at least 31 people, have been claimed by the Islamic State militant group (ISIL).
At a joint news conference with Belgian Prime Minister Charles Michel, Kerry said: "We will not be intimidated. We will not be deterred, and we will come back with greater resolve, with greater strength and we will not rest until we have eliminated your (ISIL's) nihilistic beliefs and cowardice from the face of this Earth."
Michel extended his sympathies "to all the American victims of these tragic events," adding that Kerry's presence in Brussels "is a significant sign of the friendship between US and Belgium."