François Hollande warns threats remain
Comments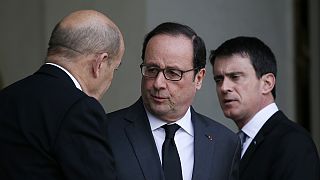 French President François Hollande has warned that threats remain, despite the ongoing destruction of the Islamist militant network behind the Brussels and Paris attacks.
"We know that there are other networks. Even if the one behind the attacks in Paris and Brussels is in the process of being wiped out, a threat continues to remain," Hollande said.
His comments came a day after a French national, identified as Reda Kricket, was arrested on suspicion of belonging to a militant network believed to be planning an imminent attack in France.
The French Interior Minister Bernard Cazeneuve said the arrest helped "foil a plot in France that was at an advanced stage.
Kricket has, according to Cazeneuve, known ties to the perpetrators of this week's Brussels bombings and last November's attacks on the French capital.
These ties include a connection to Abdelhamid Abaaoud, the ringleader of the Paris attacks, who was killed in a shootout with French police days afterwards.
Following Kricket's arrest, the French counter-terrorism service also carried out a raid in Argenteuil, north of the capital.