Turkey: journalists' espionage trial to be held behind closed doors
Comments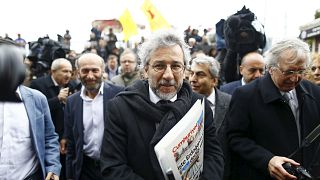 A Turkish court has accepted president Recep Tayyip Erdogan as a complainant in the trial of two prominent Turkish journalists, facing life prison terms on espionage charges.
We are on trial facing life imprisonment because we were doing our job
Furthermore, the court ruled that Can Dundar and Erdem Gul's trial will be conducted behind closed doors. It also postponed their trial until 1 April.
The charges against Dundar and Gul relate to a video, published by Cumhuriyet newspaper, purporting to show Turkish intelligence officials transporting weapons to Syria in 2014.
The prosecutor argued for a confidential trial because certain evidence involved state secrets. Lawyers for Dundar and Gul argued that evidence could be read in closed session while the rest of the trial should remain open.
Dundar, editor-in-chief of Cumhuriyet ,said on Friday that the government had been caught "red-handed" and was trying to "cover up."
"Today at the trial we said, 'we came here to judge, not to be judged'," Dundar told supporters and media in Istanbul. "They didn't want this judgement to be seen, and they decided to make it a closed session."
The two journalists were arrested in November, but Turkey's Constitutional Court ordered their release last month, ruling that their detention was unconstitutional. Erdogan said he neither respected nor accepted the court's ruling.
Gul, Cumhuriyet's Ankara bureau chief, said: "We are on trial facing life imprisonment because we were doing our job."
"But we will come on 1 April and defend the decision of the Constitutional Court together, which is Turkey's highest court. We will defend the freedoms."
The decision to conduct the trial behind closed doors has outraged the journalists' supporters in Turkey and around the world.
Scandalous: #Dundar and #Gul trial in #Turkey held behind closed doors! pic.twitter.com/HetnWRpXN2

—

IFJ

(@IFJGlobal) March 25, 2016