EU leaders 'turning a blind eye' to Turkey's press crackdown
Comments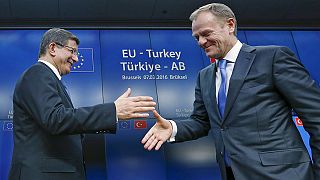 Brussels' failure to tackle Turkey over press freedom shows EU leaders have dropped the idea of Ankara becoming a member of the bloc, it's been claimed.
Cengiz Aktar, a political scientist from the Istanbul Policy Center, said media liberty in the country is the worst it's been for a generation.
Turkey's biggest newspaper, Zaman, was taken over by the authorities last week, leaving just a handful of media outlets free from government control.
How bad is press freedom in Turkey?
Prof. Aktar told Euronews (you can listen to the full interview here): "When it comes to freedom of press and freedom of the internet the last two years have been disastrous.
"Nine television channels have been closed or have been forced to be closed and several newspapers were taken over by the government."
Should EU chiefs take Turkey to task over country's media crackdown?

Read more: https://t.co/wP1QIhvlk0

Pls RT

— Chris Harris (@lyonanglais) March 9, 2016
Reporters Without Borders (RSF) said Turkey had a dismal record on press freedom and that its latest rankings placed the country among dictatorships and places where journalists are killed every week.
Johann Bihr, head of RSF's Eastern Europe and Central Asia desk, said: "Today the biggest problem for press freedom in Turkey is authoritarian drift, especially President Erdoğan.
"He's been more and more intolerant towards any kind of criticism and over the past few years the whole political spectrum of the opposition media has been targeted one after the other."
Bihr said the crackdown had targeted the political spectrum of media in Turkey, from leftists to Republicans, leaving important events – such as the Gezi Park protests in 2013 – unreported.
"This is a war which is devastating but which is happening far from press scrutiny," he said, referring to the resumption of hostilities between Turkish authorities and the outlawed PKK (Kurdistan Workers Party) in the south-east of the country.
"Journalists are banned from covering the clashes. Journalists are detained every week while trying to report what is happening."
EU leaders have 'dropped' idea of Turkey joining bloc
Turkey, which was in Brussels yesterday (Monday, March 7) discussing solutions to the migrant crisis, began negotiations over joining the EU back in 2005.
The presence of Turkish PM Ahmet Davutoglu in the heart of Europe comes just days after the targeting of Zaman.
Prof. Aktar criticised EU leaders for not holding Turkey to account.
He said: "The fact that they are more tempted to close their eyes to what is happening in Turkey shows to me and many other liberal Turks that Europe has completely dropped the idea of future membership of the Republic of Turkey.
"Otherwise it would have acted differently and warned Ankara differently. To say this doesn't correspond to the values of Europe is not enough to convince Ankara.
"My conclusion is they have, for a long time, dropped this idea and they are very happy with the government of Mr Erdoğan, as this regime is the one that closed the idea of EU membership, which otherwise has caused many problems to many Europeans, especially the Christian Democrats and others like Sarkozy in France who were, right from the beginning, very unhappy with the prospect of Turkey's membership."
'Simply appalling'
Bihr said the refugee crisis and Turkey's regional influence regarding the war in Syria were important reasons why Erdoğan was not being held to account.
He told Euronews (you can listen to the full interview here): "What we are seeing these days is the EU basically giving in to Erdoğan's blackmail over refugees, which is simply appalling.
"It seems the balance of power has shifted to Turkey, or at the very least there is not a willingness in Brussels to take press freedom as a cornerstone in its relationship with Ankara.
"Clearly international pressure is not sufficient. Obviously we perfectly understand what the regional context is and how much the international community needs Turkey on Syria and the migrant crisis, but this shouldn't render us blind."