Tragedy in France: 12 Portuguese nationals die in road accident
Comments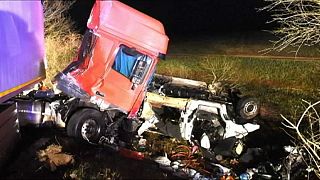 At least 12 Portuguese nationals have died in a road accident in France, authorities say.
The group, which was travelling in a minibus, included a seven-year-old girl.
Opposition politician, Gérard Dériot, said:
"This road, a national road, is well-known for being dangerous," says this opposition politician. "It has been known for years and I think those responsible for letting the problem drag on should be ashamed."
The minibus collided with an HGV in the French department of Allier. The regional state authority said it swerved and hit the oncoming vehicle, although why this happened is unclear.
The group, which normally resides in Switzerland, was reportedly heading back to Portugal for Easter.
The driver of the minibus and two HGV drivers survived the collision.