Obama says US too slow to react to Argentina's "Dirty War"
Comments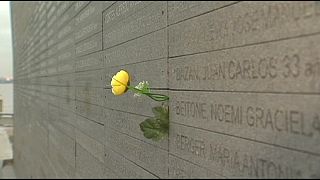 US President Barack Obama admitted Washington was too slow to react to Argentina's "Dirty War" as he attended a ceremony to honour the victims.
His visit to the South American nation coincided with the 40th anniversary of a coup that resulted in the seven-year crackdown, which began in 1976.
He and Argentine President Mauricio Macri visited the Monument to the Victims of State Terrorism to remember some 30,000 people killed by security forces.
"Democracies have to have courage to acknowledge when we don't live up to the ideals that we stand for, when we've been slow to speak out for human rights. And that was the case here," he said.
Prominent human rights groups, however, boycotted Obama's homage to the Marxist rebels, labour unions and leftist opponents killed during the period of military rule.
In the capital Buenos Aires, people rallied against the visit in protest against Washington's initial backing of the junta.