Europe tightens airport security as fresh attacks feared
Comments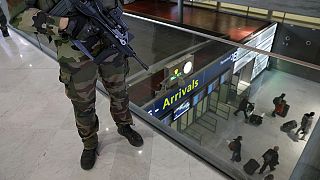 Security is being tightened at European airports following the Brussels attacks, with the airport there now closed until the weekend.
In France the ongoing State of Emergency declared in November continues, and armed soldiers at airports, train stations and other public places is a common sight, but patrols have been doubled and spot checks are more frequent.
Frankfurt in Germany has also reinforced procedures and mobilised more troops and armed police, determined to prevent any attacks there.
"I feel very safe in Germany. I am not concerned. You see police everywhere so I feel safe and well protected, I think," said one woman.
Rome is also on high alert as the authorities anticipate possible secondary attacks from ISIL, which claimed responsibility for Brussels and is believed by several security sources to be planning attacks over the upcoming Easter holiday period.