Terror hits Brussels' Maelbeek metro station
Comments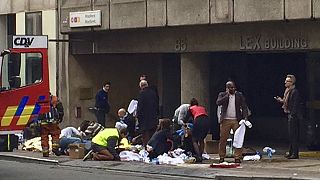 A blast hit a rush hour metro train as it left Brussels' Maelbeek station, close to European Union institutions, heading to the city centre on Tuesday morning (March 22).
Belgian media outlet VRT carried a photograph of a metro carriage at a platform with doors and windows completely blown out, its structure deformed and interior mangled and charred.
A local journalist tweeted a photograph of a person lying covered in blood among smoke outside Maelbeek metro station, on the main Rue de la Loi avenue which connects central Brussels with the EU institutions. Ambulances were ferrying the wounded away and sirens rang out across the area.
"I was very scared because we were told to leave the metro," said one woman. "Everyone cried. I was very afraid. Because everyone cried, cried."
"People came out of the subway injured. On the side of the Joseph II Street there were 30-35 people, children, people burned; more serious or less serious injuries and a lot of shocked people," said another traveller.
Analysts say Tuesday's attacks were simple but effective because they were directed at people concentrated in restricted spaces. They describe the metro station as an optimal place to create a high body count with a small suicide device.