Brussels in paralysis after blasts
Comments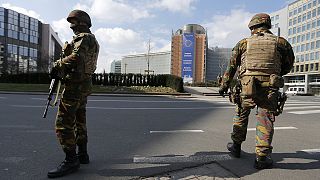 Brussels in paralysis, a country in mourning, Europe shaken to its core. It is just four days after Brussels police captured the prime surviving suspect in the Paris attacks.
The European Commission building and the EU Council headquarters are a reminder that it is from here Europe does its business across borders, across the globe.
Now terrorism as arrived on their doorsteps. Has Brussels also become the prime target of the so-called Islamic State? How will the tragedy of the attacks affect those who live and work here?
These are the thoughts of three people living in the capital.
"The neighborhood is quite stressful, but otherwise Brussels still has to live and continue with daily life," said one.
"This is just difficult to prevent. How do you prevent a guy with a belt of explosives, you cannot prevent that very well," opined another. While one resident said he will remain in the capital despite the tragedy.
"Of course I will stay here cause I'm not going to be threatened by the terrorists, I'm not going to let them get their way so I will stay here but of course I will concern more about my personal safety after this terrorist attack."
"Stay where you are," had been the appeal from the Belgian Crisis Centre to people in Brussels as a sense of fear mixed with the shock of the morning's events.
By late afternoon some of the restrictions were lifted but the terror threat remains at level four across the country. Public transport started again and train stations reopened.
Euronews correspondent James Franey reported from Brussels.
"This is the European district of Brussels where the EU institutions are based and at this time of the day this area would normally be teeming with people. This scenes have been replicated across the Belgian capital."
Advice to #Brussels residents from CrisiscenterBE</a> following this morning&#39;s <a href="https://twitter.com/hashtag/Brussels?src=hash">#Brussels</a> attacks: via <a href="https://twitter.com/Brusselsness">Brusselsnesspic.twitter.com/u1z4p6iAPk

— James Franey (@jamesfraney) March 22, 2016