Sir Graham Watson: "We can do a lot more in terms of sharing intelligence"
Comments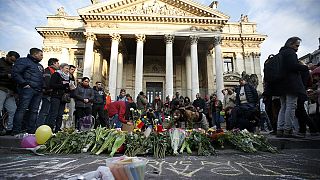 Euronews spoke to Sir Graham Watson, a former leader of the European Liberals group in the European Parliament.
Euronews:
When you first heard the news, what went through your mind?
Watson:
"Well to be honest, it was the safety of my wife who'd flown out of Brussels airport as it happens half an hour before the bombs went off. But of course this is a major attack on not only the Belgian state but on the European institutions. This has happened within spitting distance of the NATO headquarters, of the European Commission and the European Parliament and in the case of the bomb on the underground right next to one of the Belgian government ministries."
Euronews:
When you where an MEP you were involved in drafting justice legislation. What should Europe do to tackle this, because the question is how do we balance human rights and tackling terrorism?*
Watson:
"It is, and I think it is an important one, to get that balance right. When I was the chairman of the Justice and Home Affairs Committee and I took through a report on what we should be doing against terrorism, at the time with the 9/11 attacks, we were urging governments to get their act together in terms of sharing intelligence information. A lot of progress has been made in that but you'd be surprised at how many governments jealously guard such information. We can do a lot more in terms of sharing intelligence, getting our police forces and our judiciaries working together, trying that way to protect our citizens rather better."
Euronews:
Does that go far enough though? Some minds argue that we do need to give up some of our freedoms if we are to ever tackle this issue. If you go to airports in the US you'll notice that the security is much tougher than it is in Europe. If you get on a train in Israel you have to go through a scanner and there is a series of security measures that you have to go through in order to get on the train. Perhaps that is the answer, that we have to strike the balance slightly differently?
Watson:
"I think if you look at what the governments have been discussing in the Council of Ministers, what the EP is currently considering on border checks which will come into effect around the Schengen zone, you will see a lot of that happening. There are many more automatic border controls than ever there were before. But we have to keep a balance here and that's the balance between the right to free movement of individuals and the right to live in a free society and giving people maximum protection against terror."