Candlelight vigil in Brussels after Tuesday's terror attacks
Comments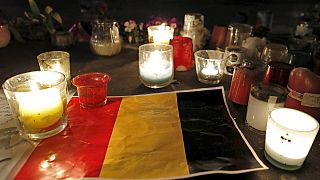 "Je suis Brussels", a similar slogan was used after the attacks on Charlie Hebdo in 2015 but now its been adapted by a city in shock.
Hundreds of people gathered on Tuesday evening in the Place de la Bourse in Brussels to honor the memory of those killed in the latest terror attack on a European city.
The memorial which has sprung up has become a place of reflection and solidarity.
"We have not really been prepared but there has always been this sense of dread that something might happen," said one woman. "It honestly really has not sunk in yet for me personally because I never really believe that something could happen here in Brussels."
For another it was a sad day: " Brussels is a fantastic place and I don't want anyone to destroy this beauty that we live with here."
Some may have known one or two of the 30 or so people who lost their lives, or perhaps have a friend among the scores who've been injured.
Even politicians have been drawn to the square…. EU Commission President Jean-Claude Juncker hugged Belgian PM Charles Michel in a sign of mutual sympathy.
As the hours passed more flowers and candles were left along with messages left in multiple languages condeming terrorism and calling for peace.
A memorial to honor the victims of the deadly terror attacks in Brussels, Belgium #prayforbrusslespic.twitter.com/VchkE4GkvY

— Bret Baier (@BretBaier) March 22, 2016