Police raids across Belgium after deadly attacks, active manhunt underway
Comments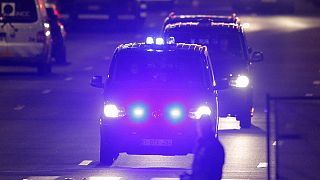 An active manhunt is underway in Belgium following the deadly attacks in Brussels. Two blasts went off at Brussels airport and another at Maelbeek metro station killing at least 30 people and injuring scores more.
Just hours after the first explosions police raids were taking place across the country. Euronews correspondent James Franey was on location in Brussels as a major police operation was underway.
"We are in the Schaerbeek of Brussels where police have shut down a 3 kilometers squared area as an operation ongoing. As you can see behind me, they blocked this street off. Because they are searching a property, which has been going on for the past couple of hours. You might not able to see because its too dark now as night falls, here in Brussels. We are just approximately two hundred meters away, where this search is taken place. Now according to Belgium media reports, indeed which have since been confirmed by the federal prosecutor: an ISIS flag and a nail bomb have been discovered at this address."
Belgian private broadcaster VTM said police searched the area after a taxi driver reported driving three people to the airport and became suspicious when they did not let him touch their baggage.
A crisis centre has been opened up for the residents of Schaerbeek who cannot make it home as the police operations continue. According to Belgian daily Le Soir a resident said the investigations could continue until Thursday morning.
The man in the hat
#TERRORISME Qui reconnait cet homme? https://t.co/rYdyrBSJqFpic.twitter.com/xKnAXb9eGs

— Avis de recherche (@police_temoin) March 22, 2016
Police issued an appeal for information about a man wearing a hat seen in CCTV footage taken from the airport, where he is seen alongside two men believed to have been suicide bombers.
The Islamic State group claimed responsibility for the attacks, but said all attackers had blown themselves up. But police believe a third suspect didn't follow through after finding and destroying a suicide belt in the airport.
Security under scrutiny
There will be questions posed of the Belgian intelligence and security services as to how these suspects slipped through their net following the high-profile capture of Salah Abdeslam, wanted in connection with the Paris attacks.
Denver airport in the US was evacuated as American transport hubs were placed on high alert following the blasts in Belgium.
Belgian Prosecutor Frederic Van Leeuw neither confirmed nor denied a link between the arrest and the attacks on Tuesday. Following Abdeslam's capture on Friday, the Belgian authorities found a weapons stash in an apartment used by the suspect as a hideout. The Foreign Minister speaking at a forum on Monday said Abdeslam had told investigators he had planned to 'restart something' in Brussels.