Obama and Castro meet ahead of high-profile talks in Havana
Comments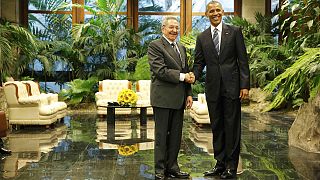 After a formal handshake in the Palace of the Revolution the presidents of the US and Cuba have headed off for a high-level meeting.
It marks the first such talks between the heads of both nations in Havana since Fidel Castro ousted General Batista in 1959.
Despite the thaw in relations, deep divisions remain over key issues.
The economy and human rights will be high on the agenda for Barack Obama, as he is under pressure back home for Cuba to make reforms in order for the trade embargo to be lifted. While President Raul Castro is expected to call for a revision of US sanctions.
One development announced ahead of the meeting, was that Google has reached a deal with Havana to expand web access across the island.
Cuban band play Star-Spangled Banner in Revolution Square (via live feed) chills spines in White House press centre pic.twitter.com/fKdWZEW5RJ

— Dan Roberts (@RobertsDan) March 21, 2016
All eyes will be on the post-talks press conference to see whether any progress has been made and which side was forced to blink first.