President Barack Obama breaks 88 year gap with visit to Cuba
Comments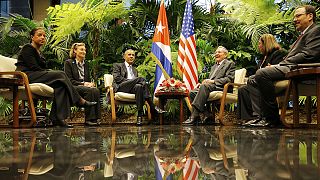 From the sepia tainted era of President Calvin Coolidge's arrival in Cuba by warship to the jet powered landing by President Barack Obama – it is a journey which has taken 88 years.
Will this be Obama's foreign policy legacy when he leaves office by the end of the year? Time is of a premium. It is just fifteen months and after back stage diplomacy since the US president shocked the western world with this defining announcement.
"Today, the US is changing it's relationship with the people of Cuba and the most significant changes in our policy in more than 50 years. We will end an outdated approach that for decades has failed to advance our interests. And instead we will begin to normalise relations between our two countries," he said.
Symbolic gestures followed and the diplomacy started to gather pace. Very quickly the two countries reopened their embassies. They had been closed since relations ceased in 1961 and the US imposed a full embargo on the island a year later That was a retaliatory action after the communist regime nationalised foreign companies including those of the US.
Now the two countries, separated by just 145 kilometres of sea will begin the difficult task of normalising overall relations. The embargo remains a thorn in discussions. Some elements have been eased but it would take the Republican-controlled Congress to lift it completely.
There have been a number of other measures from the US a move designed to restore mutual confidence between the two countries as with the announcement from the US State Department last May.
"We have issued this morning a statement about the rescission of Cuba's designation as a state sponsor of terrorism. It is effective today, May 29, 2015," said Jeff Rathke, US State Department spokesman
But it is in the field of the Cuban economy where the US president really wanted to act, sidestepping the embargo, to help the island's private sector which is still in its infancy.
The two countries have agreed to restore regular flights and a direct mail service, for instance, between the US and Cuba. Washington has also lifted the ban on Cubans and some banks using dollars for a number of transactions.
Some US companies are already operating on the island most notably in the hotel sector. Tourism is still prohibited but Americans now find it easier to visit Cuba as an end to an historical era marked by enmity and distrust comes to a close.