No magic for Orlando in Raptors rumble
Comments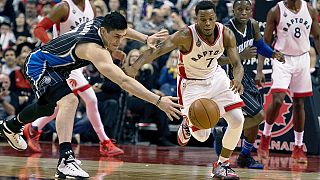 Orlando's Magic had an off day and none of the spells worked against the Toronto Raptors in their latest NBA clash.
The Raptors went into the game on a 12 out of 15 winning streak, including 11 home wins, and they again made the home advantage count.
The first quarter was theirs, but the second saw Magic outscore them
30-23 to take the lead.
They were still lagging by two points at the end of the third, 80 to 82.
With just half a quarter to go the Raptors tied, and then went ahead for the first time since the eighth minute of the second.
From then on the sides were kept apart by the thinnest of margins, the Magic getting back to within one point at 97-96, but then the night's top
scorer DeMar DeRozan nailed a floating jumper with less than a minute to run. He scored 25 points on the night, with Luis Scola notching up 20.
Final score, Toronto 105, Orlando 100.