'French Spiderman' performs another hair-raising feat
Comments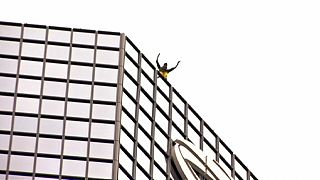 France's very own 'Spiderman' has scaled the Total tower in the La Defense business district of Paris to raise awareness of the problem of hair loss.
Alain Robert was greeted at the top by French police and taken away for questioning.
The 53-year-old has climbed more than 100 buildings, including the world's tallest skyscraper — Burj al Khalifa — in Dubai.
Hair loss day will take place in France on March 24, 2016.