FlyDubai flight recorders may not yield much information
Comments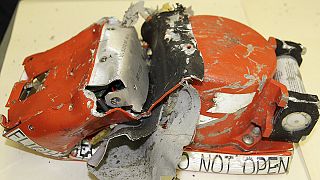 Experts decoding data
Could take up to one month
55 passengers and seven crew died in crash
Flight recorders 'severely damaged'
Aviation experts say the flight recorders from the plane that crashed in the southern Russian city of Rostov-on-Don were severely damaged on impact.
The flight recorders are badly damaged mechanically
They think it is unlikely the cockpit voice and data recorders from the FlyDubai flight will yield much information.
Russia's airline regulator says it could take up to a month to decode the information.
The Boeing 737-800 crashed on landing on Saturday. All 55 passengers and seven crew died.
45 of those who died were Russian nationals. There were nine different nationalities among the victims.
Why did the plane crash?
Experts at the scene say it is too early to say.
Investigators have spoken to almost 40 people, including air traffic controllers, weather forecasters and FlyDubai representatives.
A criminal investigation has reportedly been opened into the causes of the crash.
It is claimed the aircraft abandoned its first attempt to land and circled for two hours.
It then crashed short of the runway as it came in a second time.
Factors being considered include:
High winds
Poor visibility
A technical fault
Pilot error
In pictures
UPDATE#FlyDubai Black boxes from plane crash site are badly damaged https://t.co/fvFuH8v8Wlpic.twitter.com/cOxLrF11QW

—

AIRLIVE

(@airlivenet) March 20, 2016
Flight recorders retreived from the aircraft are badly damaged
Investigators probe cause of Russia plane crash that killed 62 https://t.co/z4c2JLBfkr#Rostov#flydubaipic.twitter.com/HVDoIWCWIG

—

AFP

news agency (@AFP) March 20, 2016
Investigators examine the debris-strewn scene of the crash in Rostov-on-Don
Int'l experts invited to assist in deciphering #FlyDubai Boeing black boxes https://t.co/EFtvDSDaPx#FZ981pic.twitter.com/iQ1e0MlTgt

— Sputnik (@SputnikInt) March 20, 2016
International experts come together to identify the cause of the crash
'#Last words' of #Flydubai pilots revealed https://t.co/KWM04MPymTpic.twitter.com/zMJNA0TSDz

— Al Arabiya English (@AlArabiya_Eng) March 20, 2016
FlyDubai says the Cypriot pilot and Spanish co-pilot had almost 6,000 hours of flying experience between them.
An international investigation
The flight recorders are being examined by experts from Russia, the United Arab Emirates, the US and France.
The American-manufactured aircraft had French-made engines.
FlyDubai
A low-cost carrier
Launched 2009
Hub in Dubai
Operates flights to 90 destinations
Has 50 Boeing 737 aircraft
What they are saying
"The recorders are badly damaged mechanically. Specialists have started the inspection, opening and removing the memory modules from their protective covering for further work to restore the cable connections and prepare to copy the data,"_ – statement from the Russian Interstate Aviation Committee.
"I want to support my city, offer words of sympathy and mourn" – Elena, Rostov-on-Don resident pays her respects at the airport.
"I cannot ignore the sorrow of the families who lost their relatives. Four kids died and it is hard to think that so many people left us in just one moment," – Igor, Rostov-on-Don resident