Questions and criticism as EU-Turkey migration deal takes effect
Comments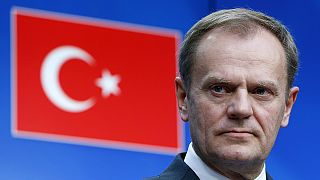 From today, Sunday, migrants crossing the Aegean Sea to Greece face being sent back to Turkey under a controversial deal between the EU and Ankara.
The deal is only going to lead to more disorder, more lack of dignity
As NATO and Turkey tightened patrols, and hundreds trying to make the journey were intercepted on Saturday, the fate of thousands already stranded in Greece remains unclear.
Conditions are increasingly desperate at the vast Idomeni tent camp on the closed Macedonian border. Aid agencies believe the situation is set to go from bad to worse.
The International Rescue Committee has denounced the accord as "illogical and unethical".
"From the International Rescue Committee's perspective, the deal is only going to lead to more disorder, more lack of dignity," said IRC spokesperson Lucy Carrigan in Idomeni.
"The idea that you can base resettlement on conditions that people are returned from Greece to Turkey is unethical."
Aid agency Medecins Sans Frontieres (MSF) has also condemned the deal.
EU-Turkey deal passed. We condemn false solution that will prevent people from arriving to European shores https://t.co/b7c9EQotrK

— MSF International (@MSF) 18 mars 2016
Hey #Europe, your tax euros are being spent fencing off #people like this with razor wire. pic.twitter.com/dQDiDuj8fe

—

MSF

International (@MSF) 19 mars 2016
For every Syrian refugee returned to Turkey, another Syrian refugee will be resettled from Turkey to the EU. Ankara agreed to the accord in return for financial and political concessions.
Plenty of questions remain as to how the deal will work however with migration officials within the Greek government insisting that the conditions are not yet in place for it to be properly implemented.