Turkey needs something in return for migrant deal, says Ankara's envoy to EU
Comments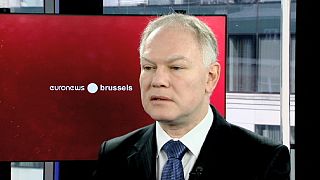 The tentative deal struck between the EU and Turkey has drawn criticism from NGOs, the UN and across the political spectrum.
But just how will it be enforced once it is fully finalised? Gulsum Alan, a journalist with euronews' Turkish service, sat down with Selim Yenel, the Turkish ambassador to the European Union.
Gulsum Alan, euronews: It's the second EU-Turkey summit in three months. There's been a tentative deal. Is Turkey saving the EU?
Selim Yenel, Turkish EU ambassador: Visas for Syrians have been re-established. The Turkish government has sent out work permits to Syrian refugees. We have taken measures against the traffickers. NATO is there. All these measures, unfortunately, have not allowed for a reduction in migratory flow.
euronews: Turkey is taking back many refugees. But it is already hosting some 3 million. How will it manage these extra migratory flows?
Yenel: It doesn't work like that. We asked the EU to fix a date at which those refugees on the Greek islands would leave. Then, we want Turkish officials on site. After that date passes, Turkey promises to take back all those people coming. What does that mean? Suppose there are Syrians. If a Syrian comes, that means that other Syrians who are in refugee camps or elsewhere can get into the EU. Economic migrants will be sent back to their home countries. Turkey doesn't need to deal with them. We think this will allow us to fight against traffickers. It's our principal objective. But of course, that has a price. If Turkey is going to pay the high price, it needs something in return. Those who come are not only going to be sent back, but we also have a relocation programme.
euronews: Turkey asked the EU to receive a refugee for every person sent back to Turkey. Can that work?
Yenel: Yes, it can work. We have discussed it with European officials. It is possible at a political and legal level. On this, there is no problem. It will be a message so that no-one will use this route as now they will be able to reach Europe legally.
We will stop illegal migration and we will go back to a normal migration process.
euronews: Is Turkey doing enough to fight against human traffickers? There are worries about this issue in Europe.
Yenel: We don't accept that. Turkey is trying to fight the traffickers.
euronews: It's fighting traffickers? Yes, of course. And now we are strengthening our laws. We are increasing the fines for traffickers. We are using methods of deterrent. You shouldn't forget that our territorial waters stretch some several thousand kilometres.It's not easy to monitor, but we are doing everything possible. Whatsmore, the number of traffickers we've caught has gone up.
euronews Turkey is asking for three billion euros. A deal on visa liberalisation, as well as the opening of new chapters in membership negotiations. Aren't these demands a bit excessive? Is Ankara taking advantage of a Europe willing to make concessions.?
Yenel: Not at all. Turkey supports the EU. Relations don't develop by themselves. Turkey is trying to put everything in place. They told us that these efforts were not sufficient and we made more effort. But we need something in return. The 3 billion euros are not for Turkey. It's for Syrian refugees. We want it until 2018.
euronews: The takeover of the Zaman daily causes some concern in Europe. How would you answer that?
Yenel: It is a legal process. Right now, I've no comment to make on this matter.