Paris attacks: a timeline of bloodshed in the French capital
Comments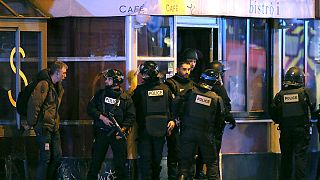 Gunmen and suicide bombers took the lives of at least 129 people in a series of attacks in Paris on the evening of Friday, November 13. More than 350 other people were wounded.
The bodies of five men suspected of carrying out the attacks have been identified. Two other suspected attackers are also thought to have killed themselves by detonating their explosive vests. Police are searching for other perpetrators and accomplices.
The attackers were organised into at least three teams:
one group of three suicide bombers attacked the Stade de France national stadium in Saint-Denis to the north of Paris.
another team of at least three men arrived at "Le Bataclan" music hall in a black VW Polo, entered the venue and fired automatic weapons and threw grenades indiscriminately into the crowd
shootings at restaurants and bars in central Paris were carried out by at least two men who witnesses say were travelling in a black Seat car later found by police
Below is a timeline of Friday evening's attacks:
21:20
CET
A suicide bomber detonates his explosive vest near an entrance to the Stade de France, where the French national football team was playing a friendly match against Germany. French president Francois Hollande was in attendance. He had just been refused entrance to the stadium after refusing a body search.The explosion killed the bomber and another man who was passing by.
21:25
CET
Two gunmen emerge from what eyewitnesses say was a black Seat car at the junction of rue Bichat and rue Alibert. They begin firing on people sitting at the terraces of "Le Carillon" bar and "Le Petit Cambodge" restaurant on the opposite side of the junction. 15 people were killed in these shootings and 10 people were seriously injured.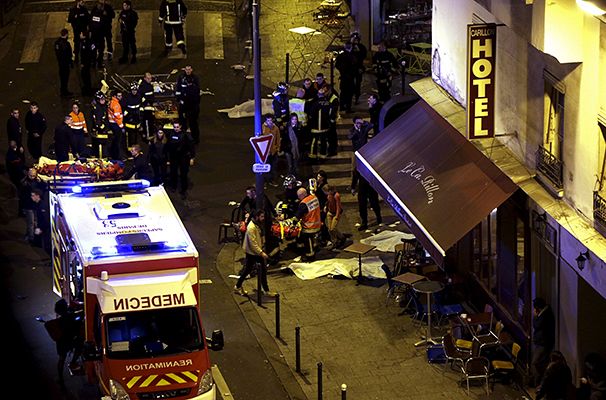 21:30
CET
A second suicide bombing occurs at another gate outside Stade de France, killing only the bomber. It is at this moment that Francois Hollande is extracted by security personnel from the stadium.
A third suicide bomber explodes his device at 21:53 at another gate outside the stadium, killing only himself.
21:32
CET
Eyewitnesses say a black Seat car arrives at the junction of rue Fontaine au Roi and rue Faubourg du Temple and that two gunmen emerge before firing at customers of the "A La Bonne Biere" and "La Casa Nostra" pizzeria. This shooting leaves five people dead and eight seriously wounded.
21:36
CET
Gunmen kill 19 people in front of the "La Belle Equipe" restaurant in rue Charonne. Again, eyewitnesses say the attackers arrived in a black Seat car.
21:40
CET
A suicide bomber detonates his explosives vest at "Le Comptoir Voltaire" on Boulevard Voltaire. The bomber was killed, another person was seriously injured.
21:40-00:20
CET
A black Volkswagen Polo arrives at "Le Bataclan", a music venue in the 11th arrondissement where California rock band the Eagles of Death Metal were playing to a full house of 1,500 people. Several men armed with Kalashnikovs enter the theatre on the ground floor and begin firing at the crowd. The attack lasted for more than two and a half hours. At least 89 people were killed and scores more seriously injured.
Armed police launched an assault on the theatre at 00:20. Three attackers were killed, one shot by police and two others when they detonated suicide belts.
The bodies of two suspected attackers at "Le Bataclan" have so far been identified: Samy Amimour, 28 and Omar Ismail Mostefai, 29, both French nationals known to have travelled to Syria in the last few years.