Popularity boost for Brazil's Rousseff? Lula da Silva to become chief of staff
Comments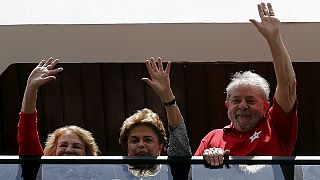 Former President of Brazil, Luiz Inacio Lula da Silva is to take over as chief of staff for current leader Dilma Rousseff at a time of economic and political turmoil in the country.
Lula's charisma and connections are expected to give a boost to Rousseff's flailing popularity amid calls for her impeachment.
The move also offers Lula — Rousseff's predecessor and mentor — a certain level of protection from prosecution following accusations of money laundering and fraud. As a member of government, he will now only be accountable to the Supreme Court.
He claims his return would be nothing to do with the charges against him, but rather an opportunity for restructuring within Rousseff's administration.
She is under fire for alleged corruption. A former Worker's Party ally of hers who was arrested last year, recently testified that the president knew about a huge graft scheme at state-run oil company Petrobras. The senator claims one of Rousseff's ministers tried to buy his silence.
Amid economic problems, allegations of fraud and ever-decreasing popularity, it may take more than the appointment of Lula to save Rousseff's job.