Brazil protests add to pressure as Rousseff's government teeters on brink
Comments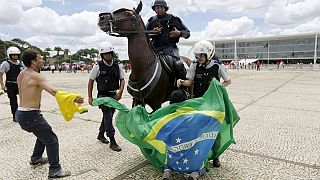 Brazil is in the midst of its most serious political crisis for almost 25 years, with the future of President Dilma Rousseff's government in the balance.
I'm fighting against corruption... This slap in the face of appointing (former president) Lula a minister is like insulting the Brazilian people
Thursday night saw major protests in the capital Brasilia and other cities including Rio de Janeiro and Sao Paulo, amid fury over the latest manoeuvring, against the background of an ongoing corruption scandal and an economic recession.
Investigators and ministers are at loggerheads.
Demonstrators are rallying round Sergio Moro, the federal judge overseeing the Petrobras corruption probe who has now cast a spotlight on the president's actions.
The judge's release of a phone conversation between Rousseff and Luiz Inacio Lula da Silva appeared to many people to show she made him chief of staff purely to save the former president's skin.
"I'm fighting against corruption. Because after what happened, this slap in the face of appointing (former president) Lula a minister is like insulting the Brazilian people. I believe in change for the country and I seriously hope this will bring about a result in the future," said one protester, Rafaela Zurita, an unemployed publicist.
Anti-#Lula protests in #Brazilhttps://t.co/RQULZH8mllpic.twitter.com/dLIyUa142s

— Pedro da Costa (@pdacosta) 18 March 2016
As a member of government, Lula would be immune from prosecution by all but the Supreme Court.
His appointment has sparked a legal battle. A federal judge filed an injunction to suspend him from the position on the grounds it could interfere with an ongoing judicial investigation. Later the attorney general vowed to appeal against the injunction, calling it the decision of a partisan judge.
Lula is under investigation for allegedly receiving gifts from construction firms who benefited from inflated contracts from state oil giant Petrobras.
Moro said the tape showed Rousseff and Lula had discussed influencing prosecutors and courts to protect the former president. But in a court filing released on Wednesday, he said the taped conversations did not provide proof that they were interfering with his investigation.
Now the current president herself is in the line of fire. Brazil's parliament has launched impeachment proceedings against Rousseff over claims that her government manipulated accounts to allow her to increase public spending in the run-up to her 2014 re-election.
A committee of sixty-five members will examine whether or not there are grounds to remove her from office.
#Brazil's Congress begins process to impeach #Rousseffhttps://t.co/huQDRNOMfnpic.twitter.com/MpFJcoin08

— eNCA (@eNCA) 18 March 2016
The twists and turns of Brazil's political crisis have become so convoluted that it has been compared to "House of Cards", prompting an online quiz challenging readers to distinguish events Brazil from those in the Netflix drama.