Putin warns his army is ready to re-deploy in Syria if necessary
Comments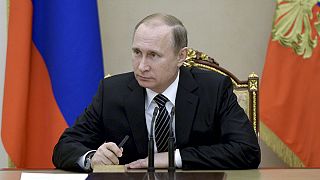 Medals handed to returned soldiers
Five dead are remembered
Putin warns his forces can re-deploy "at any time"
Medal ceremony
LIVENOW: Putin gives awards to Russian military who took part in special operation in Syria https://t.co/TMtNF7Brkypic.twitter.com/Uyl9SvS9Jo

— RT (@RT_com) March 17, 2016
It is you, Russia's soldiers, who have paved the way for peace in Syria
This ceremony marks the end of Russia's almost six-month campaign in Syria.
Vladimir Putin handed out medals to soldiers returning from the conflict.
Putin said that, if necessary, he wants to give peace a chance.
Russia able to increase military presence in Syria within a few hours: Putin https://t.co/H7BGEfTkKopic.twitter.com/mGw56Oa6XA

— China Xinhua News (@XHNews) March 17, 2016
However, he added the Russian Army could redeploy within hours on Syrian soil where it maintains bases and a state-of-the-art anti-aircraft defence system.
Watchers are interpreting this as a thinly-veiled threat to Turkey, with whom relations have soured since Ankara downed a Russian jet in November.
Putin also paid tribute to five Russian servicemen who have now been acknowledged as having died in the campaign.
Surprise announcement
The international community was taken by surprise on Monday evening when Russia suddenly announced it would begin the partial withdrawal of its troops from Syria.
BREAKING: Putin orders start of withdrawal of main part of Russian military force in Syria from Tuesday pic.twitter.com/ma3pzngWMI

— Reuters World (@ReutersWorld) March 14, 2016
First Russian warplanes leave Syria after President Putin's surprise decision to withdraw most of his forces https://t.co/hMvNZnL3dd

—

BBC

Breaking News (@BBCBreaking) March 15, 2016
Officials in Moscow say the withdrawal of the bulk of their forces should be complete in "two to three days".
1,000 troops are set to remain in Syria. The Kremlin says half are military advisers.
The operation cost 33 billion russian roubles, around 481.5 million US dollars.
Questions remain about whether the casualty figures are accurate and about other costs of the campaign.
What they are saying
"It is you, Russian soldiers, who have paved the way for peace in Syria"Vladimir Putin personally congratulates his returning troops.
"All our partners have been warned and are aware that our anti-aircraft systems will be turned on any target that represents a threat to our troops." – Putin makes a veiled reference to Turkey, with whom relations have soured since a Russian jet was downed last November.
"We knew that every time we left on a sortie, we were not only protecting the Syrian people but our homeland as well." – Colonel Viktor Romanov says his troops understood the purpose of the operation.