Former Mossad chief Meir Dagan has died aged 71
Comments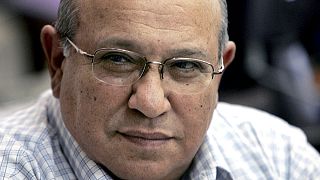 Former head of Israeli security agency Mossad Meir Dagan has died of cancer at 71.
A pugnacious retired army general, Dagan took over the Mossad in 2002, when a Palestinian revolt was raging, international Islamist militancy was on the rise and world powers learned of Iran's secret uranium enrichment projects.
His eight-year tenure saw a series of aggressive covert actions that were widely attributed to Israel. Among them was a 2007 air strike that destroyed a suspected Syrian atomic reactor and assassinations and cyber-sabotage targeting Tehran's nuclear scientists and technologies.
But weeks before he stepped down, Dagan suspended convention by summoning Israeli reporters to Mossad headquarters, where he disputed Netanyahu's assessment of the imminence of an Iranian threat and declared readiness to launch a pre-emptive war to foil it.
"Israel should not hasten to attack Iran, doing so only when the sword is upon its neck," Dagan said in the briefing. Enraged Netanyahu aides quickly dismissed his statement as pique after the prime minister declined to retain him as Mossad chief.
In a tribute to Dagan published by his office on Wednesday, Netanyahu made no mention of their disputes. "Meir was a bold warrior and commander determined to ensure the people of Israel will never again be powerless or defenceless," it said.
Asked by Army Radio on Wednesday whether Dagan had effectively scotched an Israeli attack on Iran, Netanyahu's defence minister at the time, Ehud Barak, said: "Could well be."
Meir Dagan: From the shadow of the Holocaust to the top of the Mossad https://t.co/9KOFGT2TtM#IsraelNewspic.twitter.com/gx2wPtttFj

— The Jerusalem Post (@Jerusalem_Post) March 17, 2016
The son of Polish survivors of the Holocaust, Dagan said he had spoken out for fear that Netanyahu was needlessly endangering the Jewish homeland. His dissent over strategy on Iran and the Palestinians was soon echoed by other national security figures.
Two scandals tarnished Dagan's Mossad legacy, however.
In 2010, Dubai published pictures of an alleged Mossad hit squad that had killed a Hamas armourer in a hotel in the emirate and dressed his death up as a heart attack. The suspects used cloned passports of foreign Jews who had emigrated to Israel.
Also that year, an Australian-born Mossad officer accused of leaking Israeli state secrets committed suicide while in prison.
Dagan had been ill for years, and Netanyahu and Barak helped to arrange a liver transplant for him in Belarus in 2012 after he was denied the operation in Israel because of his age.
Reuters
The former Director of the Mossad Maj. Gen. Meir Dagan passed away this morning. We #salute him for his service pic.twitter.com/egTgyQyood

— Israeli Air Force (@iafsite) March 17, 2016