Gunman was Algerian living 'illegally' in Belgium
Comments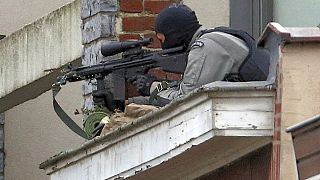 Authorities in Belgium say jihadi items were found after a police shootout in Brussels on Tuesday.
The country's prosecutor said the gunman killed during the operation was an Algerian known to police for a previous theft offence.
Anti-terror police arrived at a flat for a routine search. They came under fire from inside the building.
Prosecutors told reporters Mohamed Belkaid was shot dead when he tried to fire at the officers from a window. They said he had been living "illegally" in Belgium.
"Next to the body was a Kalashnikov as well as a book on Salafism," Thierry Werts, Belgian Federal Prosecutor's spokesperson. "Also an ISIL flag was found in the flat, as well as eleven Kalashnikov ammunition loader and a lot of shell casings."
Belgium's prime minister said that the country would stay on its second-highest state of security readiness.
"Keeping the alert level at three means that a threat is credible and possible. Level three is not an ordinary level, we have sensed for months that level three is likely to last for some time; the events of yesterday have clearly demonstrated why level three is set."
The joint Belgian-French operation is linked to November's Paris attacks, and is ongoing.
Police are still hunting for two suspects.