At least 16 killed in bomb blast on board a bus in Pakistan
Comments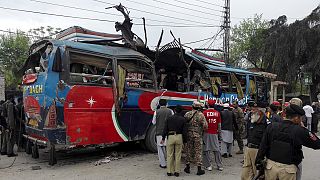 Security cameras have captured the moment of a deadly bomb blast on board a bus in northwestern Pakistan.
At least 16 people have been killed in the explosion, mostly government employees being driven to work.
The blast happened in the volatile Peshawar district, where government troops have stepped up raids on the Taliban and other militant groups.
As well as those killed, more than 40 have been injured, and doctors say the death toll is likely to rise.
Police say 10 kilos of explosives had been planted on the bus.
Peshawar is where 134 children were killed in a massacre at an army-run school in December 2014.