Argentine coastguard sinks illegal Chinese trawler
Comments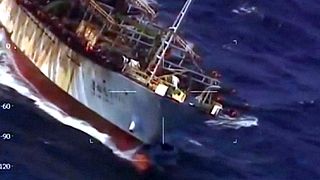 Argentina's coastguard has sunk a Chinese fishing trawler that was apparently operating illegally within its territorial waters.
Warning shots were fired at the Lu Yan Yuan as it tried to escape and after it ignored attempts at radio contact.
"On several occasions, the offending ship performed manoeuvres designed to force a collision with the coast guard, putting at risk not only its own crew but coast guard personnel, who were then ordered to shoot parts of the vessel," a coast guard statement said.
All those on board the trawler were rescued.
Illegal fishing is frequently a problem in the region.