Greece refugee crisis: Fears of disease as rain turns Idomeni into 'swamp'
Comments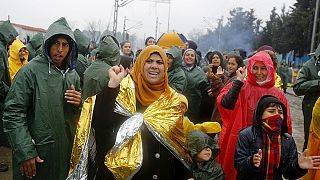 "Merkel! Merkel! Merkel!"
Stranded for days at Greece's northern border, migrants chanted the name of the European leader they hope can set them back on their journey north.
Hundreds of migrants staged another protest on Sunday at the frontier's closure.
But so far Angela Merkel's calls for states along the so-called "Balkan corridor" to re-open the gates have fallen on deaf ears. Several nations along the route have closed their borders.
Greek health officials at Idomeni on the border with the Former Yugoslav Republic of Macedonia say rain which has set in over the weekend has made appalling conditions worse.
"Conditions at Idomeni are indescribable… it's a swampland created by the rain," said the head of Greece's Centre for Disease Control and Prevention (KEELPNO), Thanasis Giannopoulos.
At least one Syrian girl has been diagnosed with Hepatitis A, normally associated with a lack of safe water or poor sanitation.
An estimated 12,000 people including thousands of children are waiting to cross the frontier.
A father taking his boy to the doctor at #Idomeni. I saw him being sick in the rain next to his tent on arrival. pic.twitter.com/Ch0×9GjbOQ

— Jim Kroft (@jimkroft) 13 March 2016
#Idomeni today. #RefugeesGr#Greece#WeDenouncepic.twitter.com/qjXPJUAK1r

— Fotomovimiento (@Fotomovimiento) 13 March 2016
The Greek government says hundreds of people have been moved from the camp since Friday and more will be in the coming days.
On Saturday the authorities handed out leaflets in Idomeni informing them that the main route north was shut, and urging them to move to other buildings and centres set aside for the purpose elsewhere in the country.
Deputy Defence Minister Dimitris Vitsas, in charge of efforts to tackle the crisis, said three other camps were available nearby to shelter them.
But many migrants and refugees are snubbing the offers of alternative accommodation, fearing their chance of moving north will be lost.
Under a draft deal struck with the EU, Turkey has agreed to take back migrants who arrive in Greece. It hasn't stopped hundreds from landing on the beaches of Lesbos over the weekend.
The Greek government said on Sunday that 44,000 are stuck in the country. It expects the number to reach 100,000 by the end of the month.
EU leaders and Turkey are due to meet again on Thursday and Friday to try to stem the flows of migrants through Greece.