Two Palestinian children in Gaza 'killed by Israeli airstrike'
Comments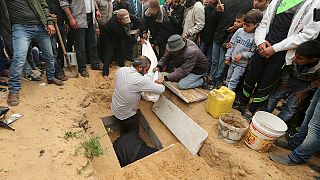 An Israeli air strike on the Gaza strip caused the deaths of a 10-year-old Palestinian boy and his six-year-old sister, according to medical officials.
Within hours of the strike, reportedly in a response to rocket fire into Israel, crowds turned out for the boy's funeral in Gaza.
The boy was identified as Yassin Abu Khoussa. His sister Issra reportedly died in hospital later.
Medics said the pair were hit by fragments from a missile fired by Israeli aircraft.
They were the first fatalities from air strikes in the self-governing Palestinian territory since last October.
The Israeli military said aircraft had targeted four militant training camps belonging to Hamas after four missiles landed in open areas in southern Israel, causing no injuries.
1/3 Following #Gaza rocket attack against Israel, #IDF targeted 4 Hamas sites. Hamas are accountable for all attacks emanating from Gaza.

— Peter Lerner (@LTCPeterLerner) 12 March 2016
Gaza officials said they believed the rockets had been fired by a Salafist group opposed to Hamas.
The military wing of Hamas said its "patience towards Israeli crimes has limits".
Second #Gaza child dies after #Israeli air strike: https://t.co/Dd6Do9AYKspic.twitter.com/4c5po1ntyj

—

SAMAA

TV (@SAMAATV) 12 March 2016